Tactics for Increasing Subscription Revenue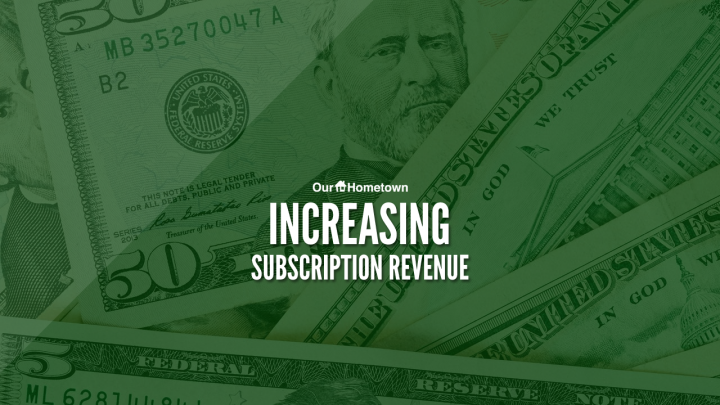 Click play to LISTEN to the article below
Our-Hometown's WordPress Publishing Platform includes a variety of tools to help you increase revenue across your website, including everything from advertisement management plugins like AdRotate Pro to custom Paid Submission Forms in GravityForms. The sky is the limit on our platform, and we're always sharing new and unique ideas for generating revenue with our customers. However, it is important not to forget about the most traditional source of revenue: Paid Subscriptions. Despite an ever-changing industry and a global shift to a digital-first publishing landscape, paid subscriptions remain an important part of the business model for most newspapers.
Of course, we have plenty of tools available to help you Increase Subscription Revenue on your website as well! In fact, one of our recent updates includes a brand new tool geared specifically for this purpose: Automated Newsletter Coupons. You can read more about this feature in our recent blog post introducing the tool.
Let's talk about some tactics you can use to increase subscription revenue on your website!
1. Newsletters to Expired Subscribers
One great source of revenue that is often overlooked is former subscribers whose subscriptions are no longer valid. While it is unfortunate that they no longer subscribe to your paper, the fact that they have previously means that they are likely to be interested in your content. Importantly, we don't know why they unsubscribed — maybe it was the price, maybe they moved away, or perhaps they simply forgot to renew their subscription. There are tons of circumstances that can lead to a reader not renewing their subscription, and not all of them mean they aren't happy with your product. Marketing to expired subscribers can be just as important as marketing to current subscribers.
Consider offering former subscribers a temporary discounted rate to renew their subscription. You can create Coupon Codes within MemberPress to accomplish this, and then send them out to a list of expired subscribers. This can all be easily accomplished using our Automated Newsletter Coupons tool. The tool allows you to create a Promotion, which will automatically insert a selected Coupon Code into all New Edition and Breaking News Update emails that are sent out to expired subscribers between the dates you select.
The coupon code will only be sent to expired subscribers; so you don't have to worry about a current subscriber saving the coupon to use in the future.
2. Newsletters to Free Subscribers
Another source of qualified "leads" is your existing Newsletter Mailing List. Readers who create an account and order a Paid Subscription on the website are, of course, automatically added to your mailing list — but this list also includes any visitors who have simply subscribed to newsletter mailing list for free via a widget on your homepage, or the Newsletter page itself. Once again, the fact that these users have taken the time to join your mailing list indicates that they are likely interested in your content. You can market to these users with discounts and special offers as well.
Much like for expired subscribers above, we can use the same Automated Newsletter Coupons tool to include a special offer aimed at Free Newsletter Subscribers. This special coupon code will only be sent to emails on the mailing list that don't belong to a registered paid account.
3. Targeted Promotions to Leads
This same principle can be applied to any list of leads that you're able to generate.
In the past, we wrote about Using Contests to Generate Leads by asking readers to submit their name & email along with an answer to a trivia question (or a similar contest), which stores that information in the back-end. You can use this info later to create a e-mail specifically geared towards folks who participated in the contest. This involves setting up a custom Mailing List which our staff can assist wit, which means the Automated Newsletter Coupon tool can not be used for this purpose — but you can still Create a Coupon Code and include it in a custom-made newsletter targeting your list of leads to achieve the same effect!
4. Sitewide Promotions
Now that we've talked about using Coupons and Special Offers to appeal to former subscribers and mailing list readers, let's not forget about the natural traffic your website receives, let alone your existing base of loyal subscribers! Promotions are always a great way to draw in new subscribers or entice existing subscribers to renew.
You can easily create Coupon Codes within MemberPress and customize the settings for any purpose. Why not promote a "SUMMERSOVER" discount code for 10% a one-year subscription or renewal? Have your design team create some attractive ads promoting this offer and the unique coupon code, and then use AdRotate Pro to create the ads online and distribute them throughout your website where all visitors can see them and take advantage.
A reader visiting your website for the first time may not bother even checking out the Subscribe page, but if they notice a flashy advertisement promoting a good deal, they may move to take advantage of it before the offer expires.
Likewise, existing subscribers may be enticed to renew earlier than usual in order to take advantage of a special offer.
We hope you've found this list of four easy ways to increase your subscription revenue useful. If you have any questions, reach out to Our-Hometown's Customer Support team at any time by emailing ops@our-hometown.com!
Our-Hometown CEO Matt Larson will be hosting a special session of Office Hours on Monday, August 24th 2020 for those interested in learning more. This will include a live demonstration of our Automated Newsletter Coupon tool. Click here to register for the session now!