FREE Setup of Automated Newsletter Coupons this week!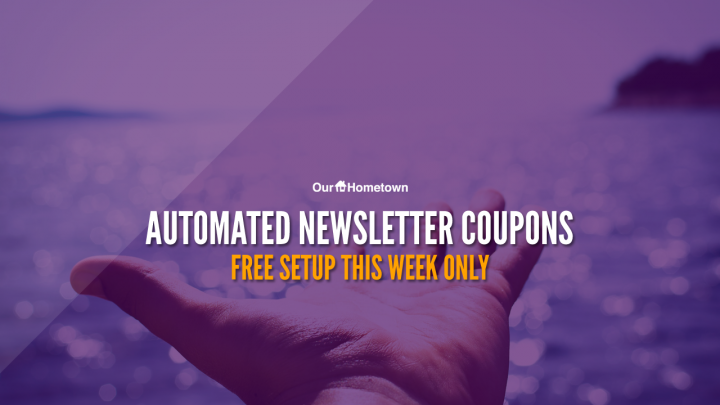 Click play to LISTEN to the article below
Last week, Our-Hometown published some Tactics for Increasing Subscription Revenue, which focused heavily on our recently released Automated Newsletter Coupons plugin. Today, we're happy to announce an exciting limited time offer: We'll set up the Automated Newsletter Coupons plugin and configure your first Promotion totally free of charge if you fill out our Plugin Setup Form below by the end of the week!
The Automated Newsletter Coupons plugin streamlines the process of delivering a special offer to your target audience — either Expired Subscribers or Free Newsletter Subscribers — by attaching a designated coupon code to any automated system emails that these users would receive, such as New Edition Emails, Breaking News updates, and more! Each Promotion includes a specific Coupon Code that is displayed at the top or bottom of the e-mail alongside a customized promotional message, and is only visible to the audience selected during setup. This allows you to easily target these qualified leads with marketing material that includes a special discount in order to entice them to re-subscribe, or subscribe for the first time.
It is a handy little tool for reaching out to users who have shown some level of interest in your product but are not currently subscribed, and we feel that all of our customers could benefit from trying at least one promotion aimed at Expired Subscribers or Free Newsletter Subscribers to give your subscription revenue a boost!
Fill out the short form below and our staff will get your first campaign configured free of charge!