Basic Methods to Improve SEO on Google
As more readers search Google for local news, it's important to take steps to improve your SEO and search ranking. Below are some best practices that will help your site rise to the front page of Google.
Fresh Content:  More important than anything else in gaining traction on Google would be uploading new content to the site on a regular basis. The more often you upload content, the more likely Google will scan your site and add articles to search results.  Once you have fresh content then you can look into the following three other areas that can improve your presence on Google.
Social Media: One of the factors Google uses to rank a site is based on how often your site is linked around the web. We recommend embedding things like YouTube videos, live streams, and other forms of media on your website so that when you share on them social media, readers are directed to your website rather than a third-party service.. Sharing as many articles as possible on facebook/twitter is also a great way to boost SEO and get more visitors.
Google News: We highly recommend following our guide on Submitting your site to Google News. Unfortunately, we are unable to do this for you, as it requires the owner of the website to submit.  Once google identifies your site as a news content generator it will start scanning for articles and sharing them in google search results.
Google Search Console:  If you aren't already doing so, we recommend monitoring and studying the results of google searches in the Google Search Console. The search console will show you what articles are currently indexed. Also, by understanding where your current traffic is coming from you can better position yourself for SEO tagging in articles. Each article in your site can have specific titles and keywords that are relevant to your content and also that achieve your SEO goals. In the article edit page you can see the SEO tools if you ever need to modify a title or add relevant info: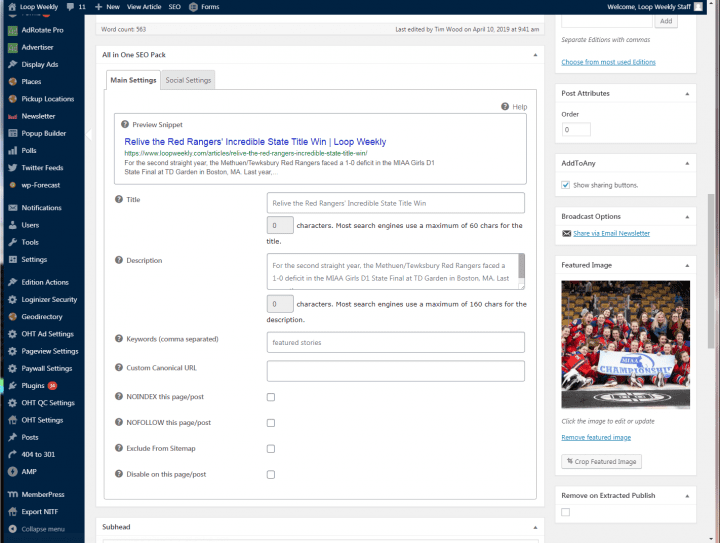 Pro Tip:  Our-Hometown's WordPress CMS is setup to optimize for search indexing, contact us today to learn more about our web publishing services for newspapers!