InDesign webinar with Kevin Slimp – FREE for Our Hometown customers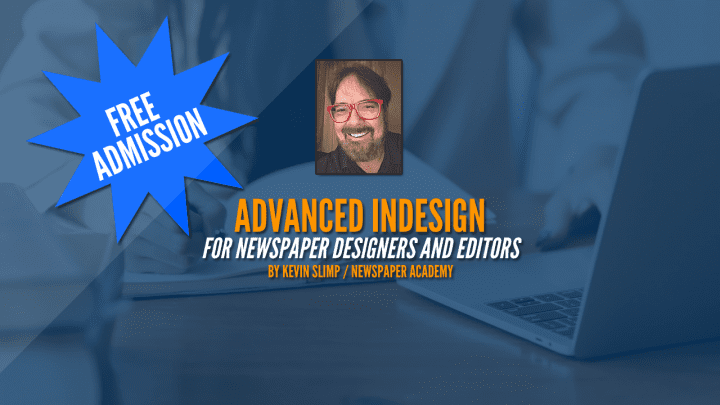 Click play to LISTEN to the article below
We are excited to announce a special partnership with Kevin Slimp of NewspaperAcademy.com that allows any of our customers to attend his upcoming live webinar, Advanced InDesign for Newspaper Designers and Editors, at no cost!
Slimp, also known as the News Guru, will be hosting the live webinar on February 5th beginning at 11am EST. His presentation will focus on using the popular Adobe InDesign software to produce print layouts for newspapers and publications. An excerpt from Newspaper Academy reads:
"There's no better time to improve the InDesign skills of you and your staff. During this 100-minute session, Kevin Slimp – who has been teaching InDesign since it was first released – will be teaching skills to increase the speed of your productivity and quality of your design. "
Our-Hometown will cover the cost of admission for all customers that would like to attend this special webinar — an $89 value! All we ask in exchange is that you take a few moments to fill out our 2020 Customer Satisfaction Survey (also found below) to help us identify areas we can improve our products and services in 2021. 
On the last page of the survey, you will find an option to register yourself or any of your staff for Kevin Slimp's live webinar.
Any customers who have already filled out our 2020 Customer Satisfaction Survey will receive a follow up email in the coming days with more information on how to register for the webinar.
Let us know if you have any questions or comments by emailing us at ops@our-hometown.com at any time! We hope to see you all on February 5th
---