Feature Update: Captions on Photo Galleries included when Multi-Site Publishing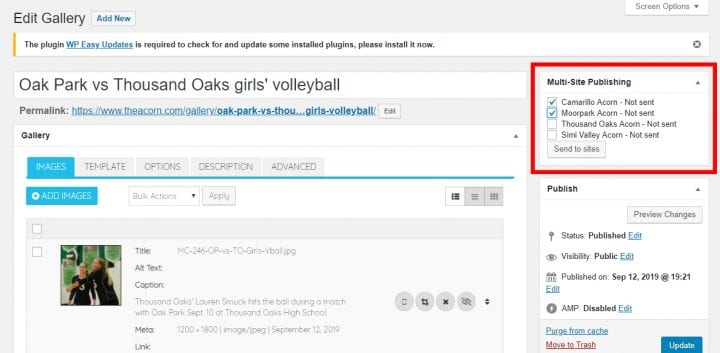 Our engineers have been working hard all summer to deliver new features and improve functionality throughout our websites. While we've introduced some major software updates this year, recently we rolled out an update to enhance existing features based on feedback from our customers.
Feature Update: Captions on Photo Galleries included when Multi-Site Publishing
Multi-site publishing is a fantastic tool we offer as a way to share articles and photo galleries between different sites operating under the same publisher. While originally focused on article-sharing, multi-site publishing was expanded to include Photo Galleries and other post types last year.
Kyle Jorrey, editor of the Thousand Oaks Acorn, had this to say about multisite publishing:
"Our media company in Southern California covers five different communities with five different websites, and before Our Hometown gave us the ability to use multisite publishing, it was time-consuming for us to share content between the five sites when major news stories hit that affected all five communities. With multisite publishing, we can share content between sites in just seconds, including photo galleries, saving us potential tens of hours of work over the course of a few months. This function is critical in our ability to cover major breaking news."
When it comes to digital, content is king.  The more content you can get on your sites the better.  If you publish multiple papers with shared coverage, it makes sense to leverage that overlap by sharing articles and photo galleries that are of interest to both populations.  The hurdle has always been the time involved in copying/pasting content from one site to another.
Now, when an image gallery is shared to another site, all images and their captions will be transferred along with the gallery. That means that this data only has to be entered one time, regardless of how many sites it is being published on.
Once the gallery has been sent, you will receive the following confirmation: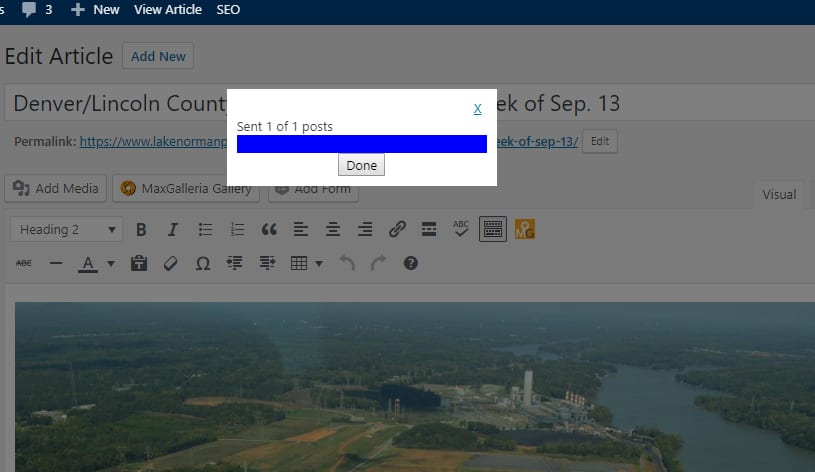 Once you click "Done", check the Multisite publishing tool to see a time stamp indicating when the photo gallery was sent.  This can be useful if the gallery is still being edited, you can quickly check to see when the last version was sent to your other sites.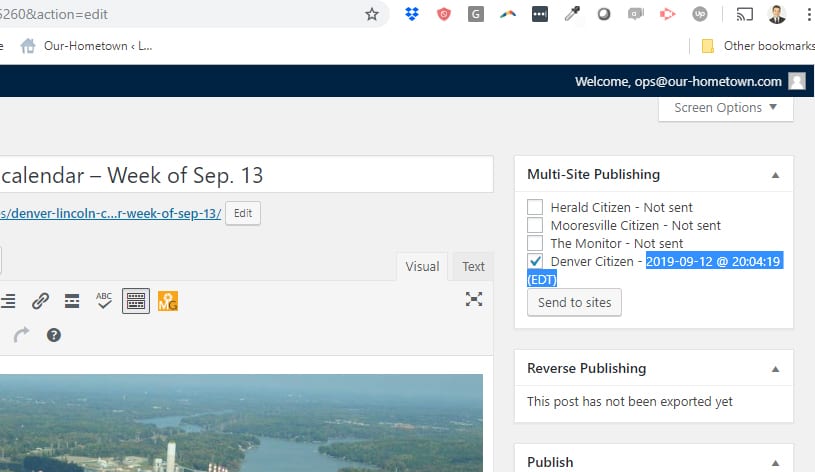 If you are interested in activating this feature for your websites, please contact us at ops@our-hometown.com