Newsletter Marketing Opportunities for Publishers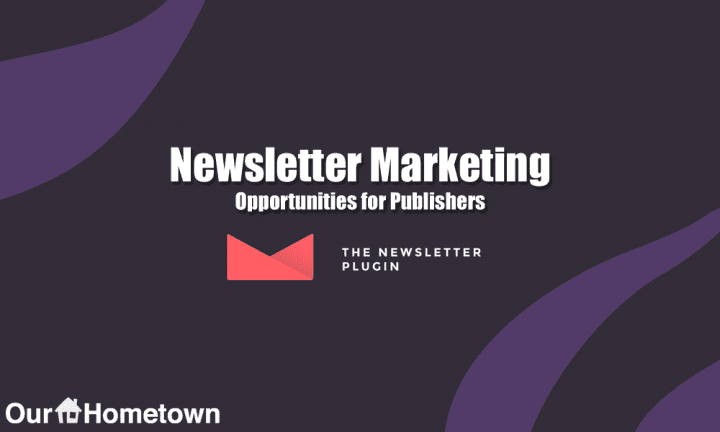 As a customer of Our-Hometown, you're probably aware that you can use the included Newsletter plugin to send e-mails to your subscribers and anyone else who has enrolled in your mailing list. What you might not know is just how valuable this mailing list is to local businesses and advertisers looking to market themselves to a new audience. Take advantage of the data you've collected and use it to generate some extra revenue from your newsletter!
1. Include Ads In Your Newsletters
The easiest way to earn money from your newsletter is to include an advertisement either above or below the main content of the e-mail. You can sell this space to a local business on the premise that their ad will be delivered to your entire online mailing list, all of whom have given you permission to send them e-mails.
If you're a Full Service customer, we're already generating and sending a newsletter each time a new edition is published and can easily include an ad at your request. Just send a ticket and ask!
For Self Service customers, you can do the same thing by setting up an Automated Newsletter and placing the advertisement in the Header Message or Footer Message areas of your e-mail template.
For more information on setting up an Automated Newsletter, click here.
2. Offer Newsletter Marketing
Another way to generate revenue from the Newsletter system is to offer your own newsletter marketing to advertisers and local businesses. You could promote an event being hosted in the community, feature a new dish at a local restaurant, or highlight an upcoming sale at a local retail shop. The possibilities are limitless, and you can create a newsletter for any purpose in just a few minutes using the Newsletter plugin's Drag & Drop Composer.
To learn more about using the Drag & Drop Composer to create Newsletters, click here.
Remember, the information that your subscribers have voluntarily provided you (and by doing so, also granted you permission to send them e-mail newsletters) is VALUABLE to advertisers and local businesses! Take this information and use it to create a mutually and financially beneficial e-mail marketing campaign for a local business!