Our-Hometown News & Updates are now on your dashboard!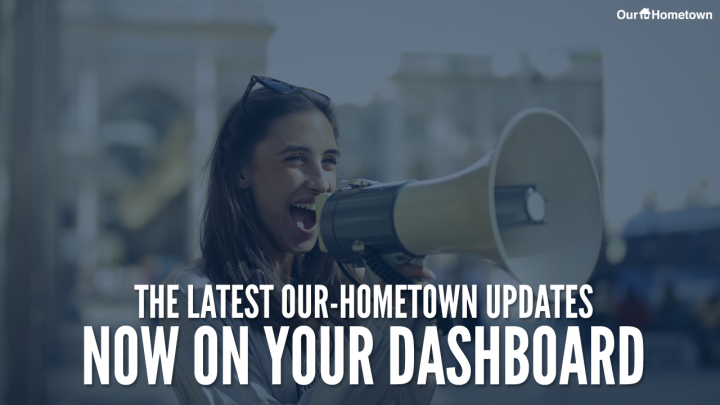 Click play to LISTEN to the article below
At Our-Hometown, we're proud of the service we provide and the customer support we're able to offer. That support goes beyond just answering tickets, phone calls and emails, and includes the great content we've been producing to keep our customers in the loop on our latest features, news and updates. We've been delivering this content to our customers in the form of a weekly newsletter, and we're excited to announce that any new content from Our-Hometown will now appear directly on your website's WordPress Dashboard!
Never miss an update or important message from Our-Hometown again!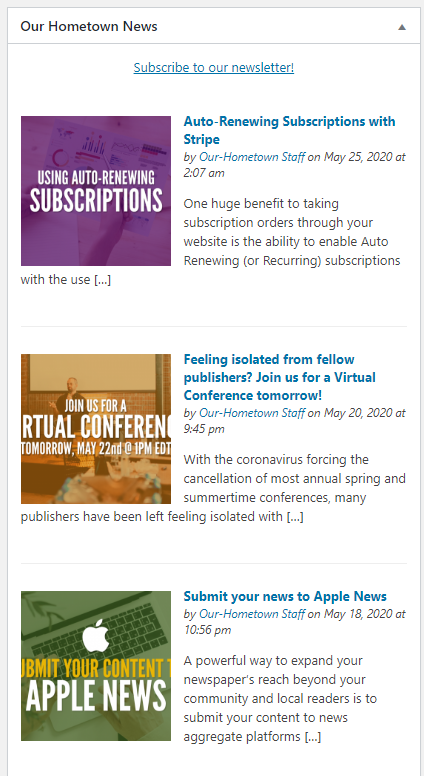 Any time we publish a new post on our website, whether it is announcing a new product or feature, sharing industry news and tips, or a tutorial-style demonstration of how to use one of our tools, it will appear with a title and excerpt on your website's WordPress Dashboard. All you have to do is login with your staff account (which you're probably doing on a daily basis anyway), and you'll see the new Our Hometown News box displaying on the Dashboard homepage.
We're thrilled to have this functionality because it allows us to get news out to our publishers even more directly than before. Newsletters aren't everyone's cup of tea, and not every publisher reads every e-mail that we send out. With our latest content sitting directly in front of you each time you login to your website, it is impossible to miss! You can quickly scan the latest topics and if any interest you, just click the link to view the full article on our website.
In addition to the list of our recent published content, we also have the ability to send out important notifications directly to the Dashboard. This means if we have an important announcement such as an upcoming maintenance window or a particularly meaningful update, we'll send a notice that will display at the top of your WordPress Dashboard to keep you informed.
We look forward to taking advantage of this feature in the coming weeks and months; so we hope that you'll keep an eye on your Dashboards!