Our-Hometown Virtual Conference: Producing High Yield Content with Live Video Interviews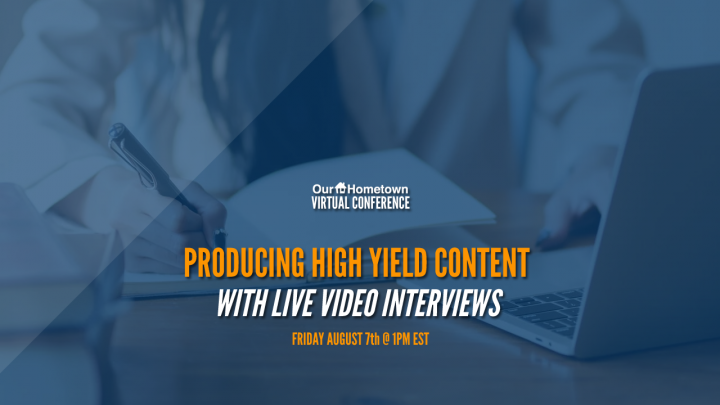 Click play to LISTEN to the article below
Our-Hometown is excited to announce our upcoming Virtual Conference: Producing High Yield Content with Live Video Interviews.
The COVID-19 shutdown has resulted in the unprecedented adoption of virtual collaboration tools for remote work, most notably video sharing software such as Zoom, GoToMeeting, and other similar alternatives. While we certainly wish the reason for the sudden need for remote conferencing was different, these tools are actually extremely useful for producing high-quality video content cheaply and efficiently, and can likely be incorporated into a newspaper's media strategy even beyond the duration of the pandemic.
Any meeting, conference, or interview that normally would have taken place in person can be easily captured on video with the click of a button and broken up to be used as internal training material, marketing media, or to enhance your journalistic content.
In this Virtual Conference, Our-Hometown CEO Matt Larson will break down our process for creating 5 pieces of multimedia content from a single virtual interview. This is not a theoretical presentation. The focus will be on the exact steps that Our Hometown's marketing team follows to transform a live publisher interview into a video highlight playlist, audio podcast, blog post, and a newsletter PDF.
To attend this, simply Click Here to Register and fill out the short registration form on the page. You'll receive an e-mail Friday afternoon shortly before the conference begins containing a link to join. We're excited to be able to share this information with our friends in the industry, and we hope to see you on Friday!