Our-Hometown Virtual Conference: Reverse Publishing from WordPress to InDesign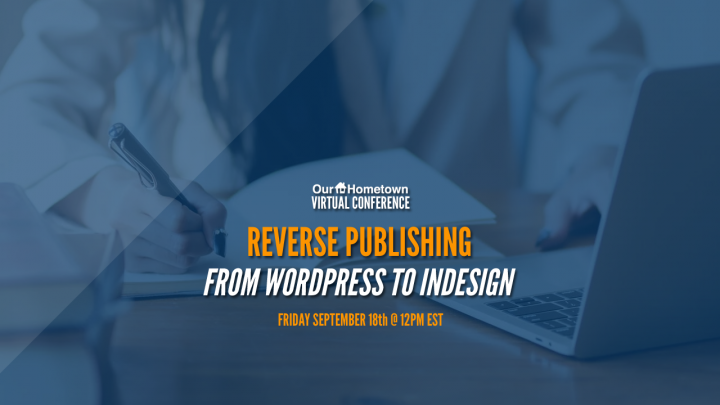 Click play to LISTEN to the article below
Our-Hometown's upcoming Virtual Conference on Reverse Publishing from WordPress to InDesign will take place on Friday, September 18th at 12PM EST.
In this session, Our-Hometown CEO Matt Larson will introduce and demonstrate our Reverse Publishing Suite, which includes everything you need for your publication to implement an effective, efficient workflow by working in reverse!
Reverse Publishing is a simple but powerful concept. Rather than producing content for your print publication, sending it to the printer, and then manually re-creating the same content on your website, you can streamline your workflow by drafting, editing, and publishing all of your content directly to the website first, where it can later be exported for quick and easy placement within an InDesign template or document. Using this system, you can draft an entire edition's worth of stories online, then export them to create your print edition in just a matter of minutes!
Many publications around the country are shifting priorities to their digital product, and our Reverse Publishing Suite fits right in line with that goal. Save time and money related to producing your print edition by working in reverse with Our-Hometown's Reverse Publishing Suite!
For more information, check out our Virtual Conferences page, or fill out the Registration Form below to reserve your seat!
---
Reverse Publishing from Website to InDesign
9/18/2020
12:00pm EDT
1 hour