See how the Wilson County News is marketing their new podcast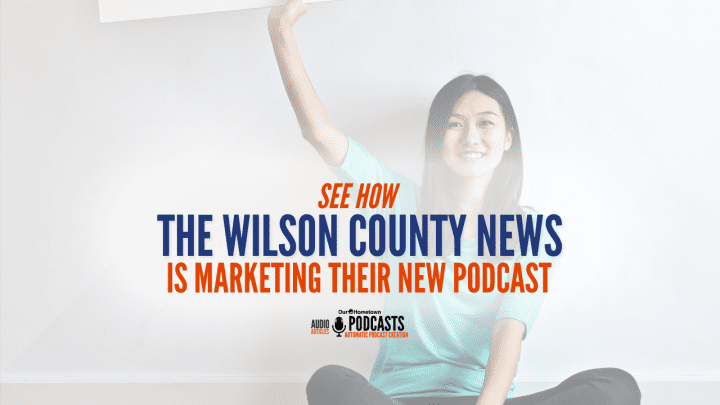 Click play to LISTEN to the article below
The Wilson County News is a long-time customer of Our-Hometown, Inc., and one of the first to take advantage of our brand new Audio Articles Podcast feature to get their new podcast off the ground.
Publisher Kristen Weaver has teamed up with Our-Hometown on several occasions in the past, including joining President & CEO Matt Larson as a panelist on several of our recent Virtual Conferences. She also joined Matt, along with Mike Blinder of Editor & Publisher and Guy Roginson of SignalsAZ.com, for a recent Editor & Publisher webinar on the power of automation last month.
Today, courtesy of Kristen, we're excited to share an article from The Wilson County News demonstrating how they are marketing their brand new podcast to their readers directly in the weekly print edition, which is important to make sure even your die-hard print readers know about all of the great features that are available online.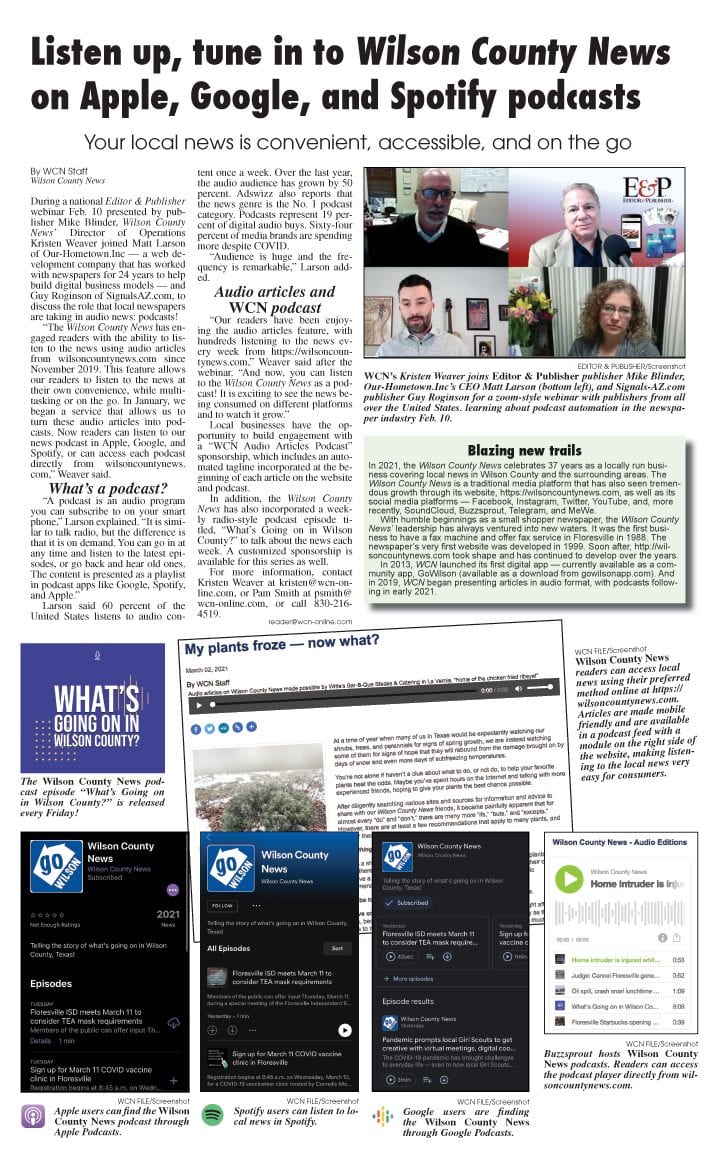 Click the following link to take a look at Kristen's article titled, "Listen up, tune in to Wilson County News on Apple, Google, and Spotify podcasts."
This is an excellent example of how publishers can market their new podcast to readers, both in print an online. While the article will certainly serve the purpose of introducing print-only readers to the podcast, it will also help alert web-readers to all of the different ways they can consume the Wilson County News content online.
Kristen begins by explaining what a podcast is and providing some data to illustrate the growing popularity of podcasts among web users, before detailing exactly how the podcast works on the Wilson County News website.
The story also contains images and screenshots showing readers exactly where they can find the latest episodes, whether on The Wilson County News website or any of the major podcast directories, like Apple Podcasts, Google Podcasts and Spotify.
We recommend that any customers using Audio Articles Podcast follow Kristen's lead and highlight your new podcast in your print edition. And if you aren't already using Audio Articles Podcast, consider checking out Kristen's article for a publisher's perspective on the potential of this tool!
As always, if you have any questions or need any help, reach out to us at ops@our-hometown.com at any time!