Try Our-Hometown's Google Docs Add-On for 1 Month for FREE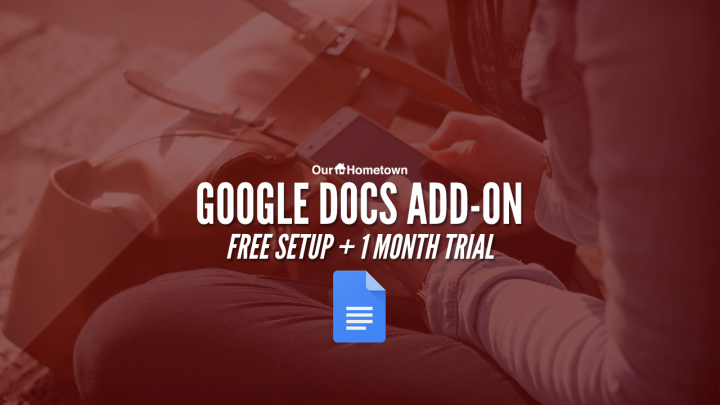 Click play to LISTEN to the article below
Our-Hometown is happy to offer a special One-Month FREE Trial* of our Google Docs Add-On to any customers interested in getting some hands-on experience with the tool!
Our-Hometown's Google Docs Add-On is an add-on that connects your Google Docs workspace with your website, allowing staff members to draft and edit article content in one of the most popular word processing tools on the web — Google Docs — before publishing directly to your website on Our-Hometown's WordPress Platform. All of the options you'd normally find within WordPress's Article editor are made available to writers directly through the Google Docs interface, effectively bridging the two word processing systems and making it easier to integrate your existing workflow processes into your WordPress website.
Ultimately, the Google Docs Add-On is just another example of Our-Hometown's commitment to helping our customers adapt to a changing industry that is now dominated by digital web publishing.
If you'd like to try our Google Docs Add-On today, simply fill out the brief form below! Our staff will connect with you via the e-mail address submitted to provide instructions on how to install the add-on and begin your free trial. Act fast, because this limited-time offer won't last long!
*Please note that this offer is only available to customers who have not used the Google Docs Add-On in the past.
---