GDPR Privacy Policy Popup is now live on your site!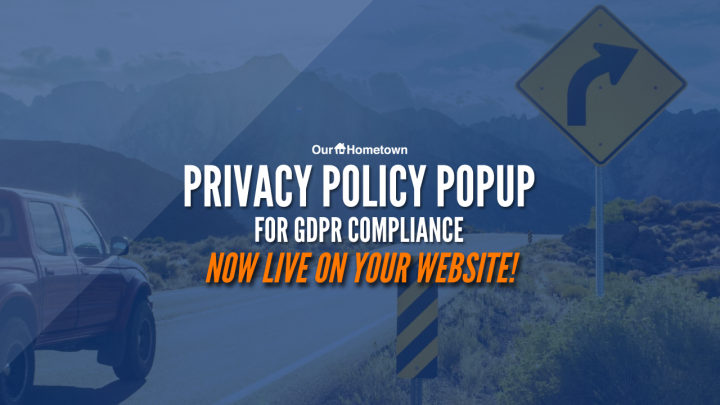 Click play to LISTEN to the article below
The recently announced Platform-wide Rollout of the GDPR Privacy Policy Popup has been completed successfully and this feature is now live on your website.
When visiting the website for the first time, readers will see a popup along the bottom of their screen noting that by continuing to use the site, they are agreeing to your site's Privacy Policy. The reader can click the Accept button to hide this popup or they can click the Privacy Policy button to visit your site's dedicated Privacy Policy page. Once a user has agreed to the policy, the popup will remain hidden for 30-days or until the user empties their browser cookies.
As noted previously, no additional action is required on your end unless your website does not have a Privacy Policy page configured. If you do not already have a Privacy Policy page configured, please reach out to our support team for more assistance by e-mailing ops@our-hometown.com.
Our-Hometown understands our customers' role as publishers and is always working behind the scenes to ensure that websites on our platform remain compliant with the various policies relevant to our industry. This update serves as another example of our commitment to this goal.
If for any reason you would like to disable this feature from your website, please contact our Support Team at ops@our-hometown.com.