Our Hometown Roadshow: Conference Digest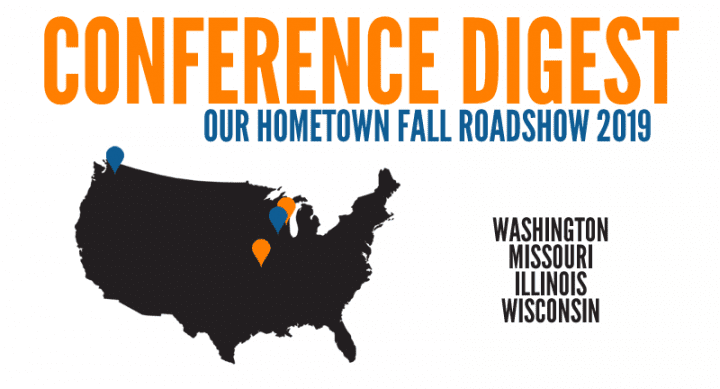 The Our Hometown, 'Fall Roadshow', kicked off at the end of September and moved right along into October. Our team attended various newspaper associations' annual conventions state-to-state.
Fall Roadshow Stops:
Missouri Press Association Annual Convention, Kansas City
National Newspaper Association, Milwaukee
Southern Newspaper Publishers Association Annual Meeting, Chicago
Washington Newspaper Publishers Association Annual Convention, Olympia
The crowds were energized, and networking with attendees offered valuable insight into the state of print and digital for the newspaper industry. Each stop provided the opportunity to listen and interact with publishers and influencers within the industry, addressing the critical business objectives for community newspaper owners, publishers, and senior staff. We also had the opportunity to speak at the NNA convention, and discussed how we helped launch a metered paywall on a free newspaper's website. The overall response was positive, and we brought back that enthusiasm and insight to our OHT team as we continue to offer customized solutions for our WordPress CMS.
While we did see familiar faces on the road, we know it can be difficult to attend these industry events back to back. This is why we want to share some topics we saw resonate with attendees at all four stops. This is insight we gathered not only from the speaking sessions and educational workshops but from the buzz among attendees.
Paywalls
The sentiment around paywalls is changing. Many publishers that once didn't believe in them are now changing their tune. A lot of this has to do with a change in subscribers, as they seem to be more willing to pay for digital content. Inspired by the models of many national brands and other community newspapers, publishers are implementing different models, from a hard paywall to metered.
Read More:
Using a Metered Paywall to Collect Email Leads 
Customizable Membership Paywall
Newsletters
Newsletters are growing in popularity among publishers from across the country. Publishers are now seeing the newsletter as another avenue in generating revenue through offering advertisers additional ad placements and standalone newsletter promotions.
Read More:
New Newsletter Drag and Drop Composer
Newsletter Leads Extension (Pop Up Newsletter Box)
Newsletter Sign Up Via In-Story Insertion
Integration with 3rd Party Tools to Increase Efficiency
Publishers are developing more integrated workflow tools to streamline their print and digital processes. For example, connecting their website with Adobe InDesign increases their operational efficiencies by simultaneously preparing articles for print and web publication. Papers using an integrated prepress system are able to publish articles online in real time and bulk export the content at the end of the week for print layout.
Read More:
PrePress and Website CMS Integration with InDesign
3rd Party Revenue Opportunities
ZipRecruiter was a popular vendor among the conventions. Use of their widget is another revenue tool publishers can implement on their website.
Read More:
Learn more about the ZipRecruiter Widget
---
Attending industry events offers our team valuable insight that we can share with customers, and gives us the ability to keep a pulse on what is trending within the community newspaper industry. As we approach winter conferences, look for Our Hometown in a town near you!