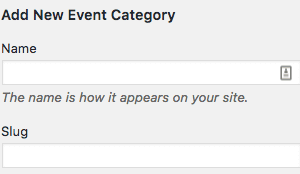 For each directory type, you'll need to add categories that business listings, events, or pickup locations can be a part of.  Under your directory type (Places, Events, or Pickup Locations), select (listing type) categories.
From here, you can enter the name of your new category, scroll down and set a category icon (required) and then click the "Add New Category" button at the bottom.
If you would like some icons to use for categories, please contact ops@our-hometown.com and we'll email you a free icon pack.
Optional:
"Default listing image" is a default image for that particular category that you can set.

To make a sub-category, simple select a "parent category" in the parent category drop-down from categories you have already created.
To edit categories, hover over the category name with your mouse, and then hit the "edit" button.  You can change your icon or default listing image on the edit screen.